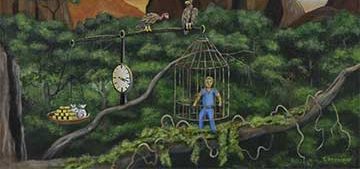 Open MI Door – End Solitary Confinement
---
Money, Time, and the Parole Board(BUZZARDS) by Tim Brownell
The Open MI Door campaign to end solitary confinement in Michigan is part of the national Unlock The Box campaign to end solitary confinement throughout the country. In Michigan, the Department of Corrections has used various derivatives of "Segregation" to implement the use and practice of solitary confinement: Punitive Segregation; Administrative Segregation; Observation; Protective Custody; Special units for the mentally ill; and most recently, to segregate people who have tested positive for COVID-19.
Open MI Door, led by MI-CEMI Steering Team Member Organizations Citizens for Prison Reform, American Friends Service Committee's Michigan Criminal Justice Program, ACLU of Michigan, Disability Rights Michigan, and Nation Outside, believes these classifications of segregation inside of Michigan's prisons equate solitary confinement, and subject people who are placed in solitary confinement to extreme and undue amounts of social-sensory deprivation.
MI-CEMI supports the efforts of Open MI Door, as they continue to bring awareness to the impacts of solitary confinement, and advocates for the proper and adequate treatment of people while incarcerated. Senate Bills 1060 & 1061, aim to create an oversight workgroup that would monitor policies and procedures regarding segregation inside correctional facilities, as well as establish regulations around the use and practice of solitary confinement, to bring Michigan in alignment with the minimum standards set by the Mandela Rules, adopted by the United Nations in 2015.