The National Lifers of America, Inc. (NLA), along with co-hosts, invite you a rally in support of second look legislation. Speakers include justice impacted individuals, currently incarcerated community members & their loved ones, legislators, public servants, & faith leaders. Come represent your loved ones & be part of the movement for healing and decarceration! #SecondLookMI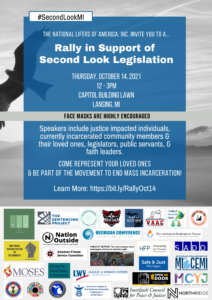 Learn more about life & long sentences in Michigan.
Logistics:
1. Light, individually packaged snacks and bottled water will be available.
2. There will be some chairs provided for participants. However, please bring your own chair if you would like to be guaranteed somewhere to sit.
3. A bus is available for participants from Detroit. Departing on October 14 at 10:30am, from Pure Word Missionary Baptist Church at 20011 Grand River Ave, Detroit, MI 48219. Please arrive between 10-10:25am. First come, first serve. Contact Constance Garner at (313) 784-3885 by October 11th to reserve your place.
4. Organizations that endorse the rally may have a table at the event. Tables are not provided. If your organization would like to formally endorse the event, and be included in tabling, please fill out this form: https://bit.ly/RallyEndorsement
Current endorsers include:
American Friends Service Committee (AFSC)
Citizens for Prison Reform (CPR)
Citizens for Racial Equity in Washtenaw
Episcopal Church of the Incarnation (ECI)
Friends of Restorative Justice of Washtenaw County (FORJ)
Interfaith Council for Peace and Justice (ICPJ)
Humanity for Prisoners (HFP)
League of Women Voters of Michigan (LWVMI)
Metropolitan Organizing Strategy Enabling Strength (MOSES)
Michigan Center for Youth Justice (MCYJ)
Michigan Citizens for Justice
Michigan Citizens United for Rehabilitation of Errants (MI-CURE)
Michigan Collaborative to End Mass Incarceration (MI-CEMI)
Michigan Conference United Church of Christ
Michigan Justice Advocacy (MJA)
Michigan Liberation
Nation Outside (NO)
National Lifers of America, Inc. (NLA)
National Organization of Exonerees
New ERA in Criminal Justice
Northridge Church
Notes from the Village
Open MI Door
Power in Passion
Restorative Justice at First Unitarian Universalist Congregation of Ann Arbor
Rise Up Michigan
Safe & Just Michigan (SJM)
State Appellate Defenders Office (SADO)
Steps to Life, Inc.
The Adolescent Redemption Project (TARP)
The Sentencing Project
Voice of Detroit
Voting Access for All Coalition (VAAC)
Updates will be made on this event page and broadcast throughout various other channels.